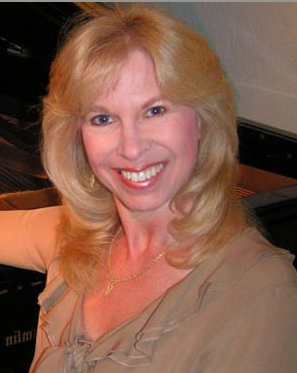 Noëlle Compinsky Tinturin
Originally from Los Angeles, pianist, Noëlle Compinsky Tinturin has performed as a soloist, accompanist, in orchestras, and as a chamber music artist extensively throughout North America and Europe. She studied piano with her aunt, Sara Compinsky, and chamber music and orchestral music with her father, Manuel Compinsky, both members of the internationally renowned Compinsky Trio. Noëlle continued her musical education at Mt. St. Mary's College, the University of Southern California, and California State University at Northridge. In 1965, she toured Scandinavia with the Idyllwild Symphony Orchestra, as an oboist. These concerts were filmed as an educational documentary. She was also a founding member of the American Youth Symphony with the conductor, Mehli Mehta.
As a piano accompanist and chamber musician, Noëlle has collaborated with such artists as violist Milton Thomas, violinists Ayke Agus, Endre Balogh, and Roger Wilkie, and pianist John Novacek, guitarist Glenn Tinturin, her father, violinist Manuel Compinsky, and her daughter, cellist Celine Gietzen.
Noëlle has recorded three CDs of solo piano music: Romantic Miniatures (1999), Romantic Miniatures II (2000), and American Portrait (2006). Noëlle has been teaching piano since 1969 and has had many award-winning students at The Tinturin Music Studio in Lake Arrowhead and Camarillo. She has coached many chamber music groups, including a faculty position at the Idyllwild School of Music and the Arts. She has also held faculty positions at Westside Keyboards Studios in Santa Monicas, and "On Stage Music" in Northern California. She has served as an adjudicator for local competitions and for the MTAC Certificate of Merit program. For ten years she was a board member of the Arrowhead Arts Association, where she served on the scholarship committee and produced chamber music concerts.
Noëlle is listed in the Marquis Who's Who in America.
In 1990, Glenn and Noëlle formed "The Tinturin Duo" and have since been performing their own arrangements of popular classics for classical guitar and piano, as well as new music written especially for them. In 1994, The Tinturin Duo performed all over Europe on a six-week concert tour. This same year also saw the release of their compact disc entitled Romancero Gitano, recorded for Cambria Records.