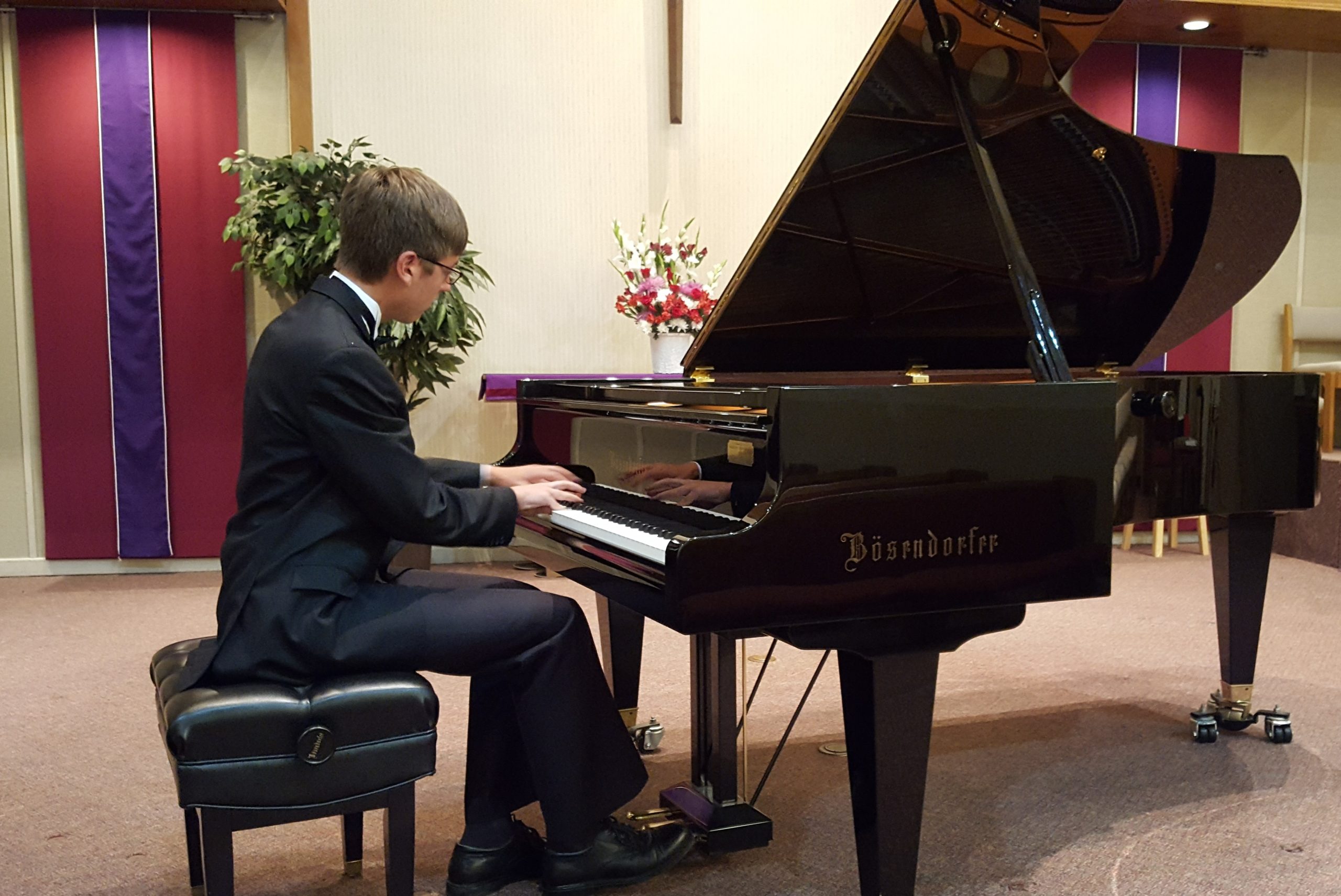 21-year-old Devin Romines from Camarillo, and a student of Noëlle Tinturin since 2013, performed his Senior Recital on April 25, 2021 at California Lutheran University. He will be graduating as a Valedictorian, earning Bachelor's degrees with Honors in both music and science, and will be entering a PhD program at UC Davis in September.
Devin is an award-winning student with a wide range of talents and achievements including receiving the Eagle Scout honor in 2014, achieving Black Belt status in Shotokan Karate, and many awards in music. He is also a talented artist and comedic actor.
At his Senior Recital, Devin performed piano solo works by Scarlatti, Chopin, Beethoven, Brahms, Debussy, Ernst Toch, Clara Schumann, and the premier of his own composition, "First Town Theme," a piece inspired by video games!
Devin Romines has been studying piano since the age of 5, and he began his studies with Noëlle Tinturin at the Tinturin Music Studio at the age of 13. He is graduating from California Lutheran University as a valedictorian with a Bachelor of Arts in Music with a Piano Performance emphasis with Departmental Distinction, and a Bachelor of Science in Biology with Departmental Honors and Departmental Distinction minoring in Mathematics and Chemistry.  He is also graduating with University Honors with Distinction.  Born and raised in Camarillo, he loves teaching and serving others.  Since 2019, Devin has been a research student in Dr. David Marcey's genetics lab, a tutor for the CLU Math Center, and a student program coordinator for the University Honors Program.  Outside of school, Devin received the honor of Eagle Scout in 2014, is a black belt in Shotokan Karate, and volunteered at the Camarillo Public Library for 9 years planning events for teens and children.  Devin will be entering a PhD program at UC Davis for Integrative Genetics and Genomics in the fall, with the goal to become a college professor and work in crop improvement.  He is grateful to everyone who has supported him on his journey.